[ad_1]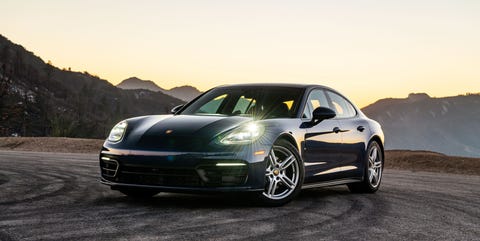 Jessica Lynn WalkerCar and Driver
The Porsche Panamera comes in numerous variants. The base form is not as brag-worthy as its more expensive siblings, but it's still dreamy to drive and a practical to live with.
Read the full review
1 of 54
The base Panamera runs a twin-turbo 2.9-liter V-6 making 325 horsepower and 331 pound-feet of torque.
2 of 54
The transmission is an eight-speed PDK dual-clutch unit with paddle shifters.
3 of 54
Adding the GT Sport steering wheel and Sport Chrono package makes for a cockpit that looks much more sports car than family sedan.
4 of 54
All Panamera models now come with the Sport Design front end that was previously an option.
5 of 54
In the back, the Panamera's hatch features a light strip between taillights and a new lower fascia with diffuser fins.
6 of 54
Starting with 2021 models, all Panameras offer a high-performance summer tire.
7 of 54
Lane-keep assist is now standard, but other driver aids, such as adaptive cruise control and blind-spot monitoring, cost extra.
8 of 54
The brakes on the base Panamera don't look fancy, but they bring the big car to a stop from 70 mph in an impressive 148 feet.
9 of 54
Besides a real back seat, the Panamera's major advantage over a sports car is its luggage space. The hatchback hides 18 cubic feet with the rear seats up, and with them folded there's 47 cubic feet available.
10 of 54
In our testing, the Panamera hit 60 mph in 4.4 seconds and ran the quarter-mile in 13.0 seconds flat at 107 mph.
Advertisement – Continue Reading Below
This content is created and maintained by a third party, and imported onto this page to help users provide their email addresses. You may be able to find more information about this and similar content at piano.io
[ad_2]

Source link